I woke up this morning and did
not
want to get out of bed. I don't jump up like a ray of sunshine every AM, but I am usually more of a morning person. Today, though, I grumbled and rolled over and hoped and prayed my husband would feel my vibes and help the children off to school. Lo and behold, he got up--kudos to my man! Except, I knew there was no way my Sweet Girl's hair was brushed and my son was certainly going to head out the door without a jacket. I had to face the day.
I stumbled through coffee and the paper and still, the dark cloud continues. Everywhere I turn, there are messes. Shoes strewn here and there, dishes in the kitchen (even toy dishes throughout various rooms), and the extra clothes cold weather brings are overloading pegs and benches (it's almost as if the little elf people who come clean up at night
didn't do their job
)...and I can't seem to shake the furrow in my brow. What I'd like to do is curl up and finish my book (
Good Enough is the New Perfect: Finding Happiness and Success in Modern Motherhood
, which is pulling me in at the end. My only wish is that they had considered women who 'stay home' for longer stretches). But, during my morning browsing of blogs, I came across
this
set of inspirational pictures and suddenly got the jolt.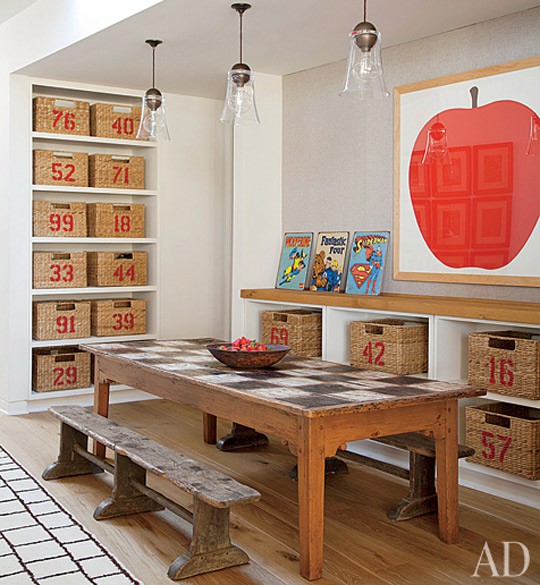 This is exactly what I've been looking for--part dining room, part play/craft room!
Either the coffee kicked in or the creative juices, but I feel the motivation beginning. I may not
want
to clean the house, but I will not feel any better until I do.